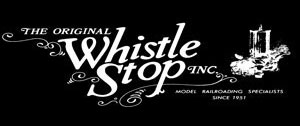 The Original Whistle Stop
2490 East Colorado Blvd. Pasadena, CA 91107 Phone: (626) 796-7791 FAX: (626) 796-7566 E-Mail: info@TheWhistleStop.com

Tuesday, January 19, 2016
The first Hotsheet of 2016…
Start your year with new Motive Power, available at 'the Stop.
Rapido has produced the Amtrak F40ph in HO scale.  
The Amtrak F40PH is one of the few locomotives in North American railroad history that can be described as iconic. . The F40PH represented the renaissance of passenger train travel in the United States. It was the face of Amtrak – to railfans, modelers and the public – for over 25 years. To date, no manufacturer has ever produced the definitive Amtrak F40PH model.
Available with DCC/sound (Loksound) and plenty of details – $299.00 while they last.
Athearn

is taking reservations for the EMD SD39 diesel.
This locomotive, produced between 1968 and 1970, was a six axle entrant with the V12 645 turbocharged prime mover.  Santa Fe and Southern Pacific purchased 20-odd of these each.
Each offering has locomotive specific, detail parts applied per the unique locomotive number, and comes in either DC or DCC/sound (Soundtraxx) variants.
The most impressive thing is that this model breaks the $200+ barrier for a DCC sound equipped locomotive – $185...
The ES44AC (Evolution Series, 4400 HP, AC traction) replaces the AC4400CW model in GE's range. These locomotives have been ordered by every Class I railroad in North America.
Walthers will produce a limited run of the most popular locomotive in America in their WalthersMainline series, and are taking reservations now.  Liveries will include BNSF, CP, CSX, Norfolk Southern and UP.  The price for DC will be $129.98, $199.98 for DCC/sound (Soundtraxx) and include railroad specific features such as working ditch lights and specific truck styles per the prototype.
We still have several Kato n-scale locomotive models – at special pricing…
 A/B sets of F and E units in the ATSF Warbonnet scheme and UP colors.  Undecorated E8 B -units.  BN and CNW E units.  SD40's in the SP speed lettering scheme.
And each unit is only $50.00, while they last…
The E-Z Command Dynamis, in the

Bachmann

Spectrum line, provides wireless DCC control of your layout.  It comes with an easy-to-use LCD handset and a 2.3 Amp power supply.  NMRA compatible features include 9999 locomotive addressing, 14, 28 and 128 speed step support, consisting, programming on the main and up to 40 'active' locomotives.

While this unit normally retails above $300.00, we have obtained several units at a special price of $175.00, while supplies last.
We still have a few trainsets from Athearn (HO) and Lionel (O scale) in stock after the Holiday rush.  These products are a great way to get into a life-time hobby, and are competitively priced from $190.
Each set comes with a locomotive and caboose, various freight or passenger cars, track, and the transformer (in the case of the Lionel sets, also a wireless remote control).  Everything you need to get your 'feet wet' in model railroading.
 
Copyright © *|CURRENT_YEAR|* *|LIST:COMPANY|*, All rights reserved.
*|IFNOT:ARCHIVE_PAGE|*
*|LIST:DESCRIPTION|*
Our mailing address is:
*|HTML:LIST_ADDRESS_HTML|* *|END:IF|*
Want to change how you receive these emails?
You can update your preferences or unsubscribe from this list
*|IF:REWARDS|* *|HTML:REWARDS|*
*|END:IF|*