The Hotsheet
July 10, 2015
Email: info@thewhistlestop.com
The Hotsheet is our continuing publication by 'the Stop' highlighting recently received products and upcoming items or events that might be of interest to our model railroader friends.
Kato n-scale F units
The F-Unit is probably the most recognized diesel locomotive in North American history. It was found on railroads from East to West and North to South. Similar in appearance to its predecessor, the EMD F3, the EMD F7 was a 1500 hp multi-purpose locomotive. Although originally promoted as a freight-hauling unit by EMD, the F7 was also used in passenger service hauling such trains such as the Santa Fe Super Chief and the Great Northern Empire Builder. The F7 was the fourth model in GM-EMD's highly successful F-unit series, and was for a long time (until the introduction of the EMD SD40-2 freight unit) was the best selling Diesel-electric locomotive ever made.
Kato previously offered these only in their train/track sets. The first units will be available in ATSF livery for both freight and passenger.
We have new items from Trucks & Stuff – HO scale semi-trailers and tractors.


Featuring Volvo, Kenworth and Peterbuilt cabs with Tanks, 53' Reefers and Containers, and 28' Doubles for trailers. Fully assembled, painted and decaled, from $16.99.
MiniTrainS HOn30 line of 0-4-4t Forney locomotives in various schemes are in the roundhouse at the 'Stop.
Undecorated with brown cab shown – $150.00.
Check out the complete inventory at www.thewhistlestop.com in the HO section under HOn30.
Velleman temperature-controlled Soldering Stations.
– $33.50
Great for most model railroad projects. Soldering iron holder, manual temperature setting, 50W of power.
The easiest layout lighting you will ever install…Woodland Scenics Just Plug system.
If you would like the added realism of lighting on your layout but have hesitated due to the perceived complexity of the solution, this product is for you!!!
Literally 'plug-and-play': LEDs (with stick ons) in a couple of sizes and multiple colors plug into a Light Hub that uses a manufacturer supplied 'wall wort' or the AUX ports on a power pack. Each light can be individually dimmed. Multiple hubs can be attached to an Expansion hub(s) that supports 50 lights per power supply. The Aux Switch turns everything on or off. The control port on the Hubs can take the output from a DCC auxiliary decoder.
No soldering, wire stripping, installation/calculation of resistors, etc. Other products include window film for diffusing the light and light blocking tape/paint for leakage along wall sections.
LED's with wired plug – $10
Light Hub set with 2 LEDs – $20
Power Supply – $20
Expansion Hub – $16
Window diffusing film kit – $17
Light block kit – $17
Auxiliary Switch – $10
In the Publications Department
The Overland Route, by John Strauss Jr., from Four Ways West.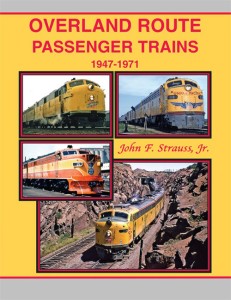 – $69.95
Overland Route Passenger Trains by noted passenger train author, John F. Strauss, Jr. features this very comprehensive history including train consists taken from actual railroad records, major depot arrival/departure records, hundreds of passenger train photos and passenger car photos, both in vivid color and sharp historical black & white. Details both the famous 'City' trains as well as secondary trains.
Hardcover, 250 pages.
Southern Pacific Trackside at Transition, by Alden A. Armstrong, published by the SP Historical Society.
– $75.00
The Southern Pacific Trackside at Transition is a personal pictorial of the face of railroading during the transition years of one of the West's great railroads. The author and photographer includes in this look at his lifetime of photography, several other railroad companies and short line railroads during his travels.
This landscape book contains 224 black and white, and 145 color photos, most of which have never been published before. Hard cover.
We have restocked the very popular Hollywood's Railroads Volume 3, Narrow Gauge Country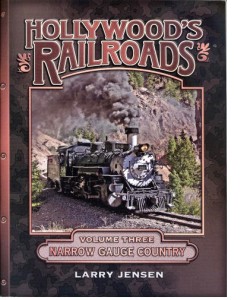 – $19.95
"Hollywood's Railroads" is a new series of softcover books about railroads and locomotives used by Hollywood in motion pictures and television shows.
If you would like to receive the Hotsheet please follow these instructions:
From our home page click on the Hotsheet item on the left-hand menu and follow the directions. You'll get announcements about new arrivals, special events and future products of interest. If you already get the Hotsheet, you do not have to do anything. Be sure to also find us on Facebook.