The Hotsheet
April 17, 2015
Email: info@thewhistlestop.com
The Hotsheet is our continuing publication by 'the Stop' highlighting recently received products and upcoming items or events that might be of interest to our model railroader friends.
Intermountain ATSF Caswell Gondolas have arrived in HO scale…

– 29.95
These cars were used to haul almost any material that did not need weather protection: coal from Colorado and New Mexico, sand, gravel, ore, borates, limestone, coak; even sugar beets during the summer. They were also used to haul ballast, ties and dirt. The models cover several of the GA types used.
… and Red Caboose introduces the Type 103W 10k Gallon Welded Tank Car (also in HO).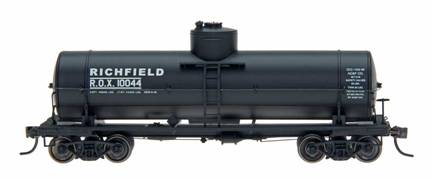 – $34.95
This is a general service car built to haul things like fuel oil, gasoline, vegetable oil, caustic soda, etc. Things that did not require high pressure, special linings or unloading features, or the manufacture of special materials. These cars generally used a steel central frame with wide
platforms beginning at the bolsters and extending to the ends. The tank
itself was cylindrical, and had a dome on top capable of absorbing 2% of the liquid volume in expansion. They were also furnished with vents in the dome to release gases should it reach that point.
Wheels of Time announces Pacific Car & Foundry 70-ton Insulated Box Cars in n-scale.

– $26.59
These 70-ton Plate C cars were considered bunkerless refrigerator cars or insulated box cars and carried the mechanical designation of RBL or XLI, respectively. They were assigned to temperature sensitive commodities such as dried foods, canned goods, jar goods, drinks, packaged foods (rice, pasta, cereals), pet foods, nursery plants, seeds and xmas trees. PC&F (now known as PACCAR) had it's beginnings making railroad logging cars.
Incredibly popular among shippers these specially equipped insulated box cars were cushioned from slack action, protected with load equipment to prevent shifting loads, and insulated from extremes in temperature. Serving the food industry primarily, they were used by any shipper requiring a constant temperature and a nice cushioned ride. Availability in GN, BN, Evergreen, Southern Pacific (Hydra-cushion) and unlettered brown.
In the Publications Department
Classic Trains Magazine Special Edition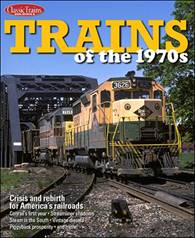 – $12.99
Covering the crisis and rebirth of America's Railroads, including Conrail's first year, Vintage diesels and steam, Piggyback development and more.
Morning Sun Books on 'Through Passenger Service' , featuring the Milwaukee Road, Southern Pacific, and Great Northern.
Great color coverage of passenger service on these railroads; Southern Pacific service from post war to Amtrak, Great Northern's long distance trains, and the Milwaukee Road transition period from orange and maroon to Armour yellow and red. $59.95 each.
If you would like to receive the Hotsheet please follow these instructions:
From our home page click on the Hotsheet item on the left-hand menu and follow the directions. You'll get announcements about new arrivals, special events and future products of interest. If you already get the Hotsheet, you do not have to do anything. Be sure to also find us on Facebook.