</p>
HOTSHEET – AUGUST 10, 2015
Email: info@thewhistlestop.com
The Hotsheet is our continuing publication by 'the Stop' highlighting recently received products and upcoming items or events that might be of interest to our model railroader friends.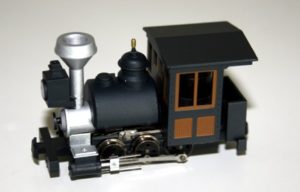 The new Porter "Saddleback 0-6-0 has just been released by MinitrainS in Hon 30
It is not lettered.
Order Stock # 1011 @ $149.95 each
_________________________________________________________________
Announcing the next generation of sound decoders from Soundtraxx…

is the third generation of decoders from one of the premier manufacturers of DCC components.
 There are a plethora of new features in this decoder but our take on the more pertinent ones includes:
Size

, at 27mm x 10mm x 5mm, a significantly smaller form factor.
Only 3 different

'options'

, diesel, steam and an electric (trolley or larger locomotive (e.g. GG1)
Same number of lighting functions,
Same 7 band equalizer
More advanced

Hyperdrive

(.5 scale MPH)
3 point

speed curve

Function re-mapping (any of 34 functions to any key)
And the most important one is the $79.95 MSRP.
Steam particulars include light, medium, heavy and geared exhaust in two cylinder or articulated mode (with wheel slip). Locomotive drifting function for downhill or reduced power movement. Function activated cylinder cocks sound. 
Diesel prime movers include EMD 567, 645 Turbo, 710 turbo, GE FDL-16 and Alco 244. There are 7 different bell types and 16 airhorns. An interlocking function for engine startup and shutdown and different setups for dynamic braking and air compression.
_________________________________________________________________
We have added the ECO 100 into a diesel (Alco FA) and steam (2-8-0 Consolidated) demonstration locomotives. This weekend is a great time to come to the 'Stop to see this new sound decoder in action, and to get your orders in early.
Speaking of DCC…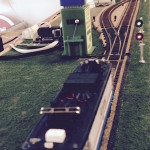 So you have installed a DCC system on your layout, and love the great features that 'digital' provides for your motive power operations.
If you have been thinking about 'what's next', we have some ideas, and our 'DCC Next Steps' demonstration can show you.
Our in store layout shows you how to set up DCC control of turnouts, get block detection and train identification, manage signal logic, routing and using a laptop and free software to control everything. There is no requirement to solder wires and the components can work with most DCC systems.   We stock a complete line of equipment from several DCC manufacturers to provide these functions and more. Handouts are available.
___________________________________________
In the Publications Department
A Trains magazine collector's guide on the N&W 611 steam locomotive
– $6.99
If you would like to receive the Hotsheet please clink on the following link: Sign up for Hotsheet:
You'll get announcements about new arrivals, special events and future products of interest. If you already get the Hotsheet, you do not have to do anything. Be sure to also find us on Facebook.