Home Page
Model Railroad Trains in all sizes and scales have been our specialty, since 1951.
All  models in O, HO, N, and Z scale by: The Coach Yard, Overland Models, Key Imports, PSC , Division Point, and AZL are always in stock.
Looking for Lionel, MTH, Athearn, Kato, BLMA, InterMountain, Tangent, Fox Valley, Atlas, Marklin, Micro-Trains; you have found your source!  The Website has a complete catalog of new, out of production, or very unique model train items.
For more information:  Visit, Call, Fax or Email us.
The "Original Whistle Stop" 2014: Jerry, Alex, Steve, Judy, Val, Sandra, Martin, Fred, Tina, Dennis, Tom and Bill

Keep calm … and love a railroad man!

"I like trains. I like their rhythm. I like the freedom of being suspended between two places … in this moment … I know where I am going"

It's all in the 'jeans" or is it in the "genes"? Fred with granddaughter Natalie

Who wants to go to The Original Whistle Stop?

"The second happiest place on earth". "Where imagination - exploration - and inspiration come to life". (j.hill)

Train travel is the best way to be lost and found all at the same time!

If your train of thought seems to be going nowhere … switch tracks!

Driving the train does not set its course. The real job is in laying the tracks!

"To travel by train is to take a journey into yourself"

"Full Steam Ahead" Everyone wants to go to "The Original Whistle Stop" (santa fe 3751. pasadena, california)

The only way to do great work … is to love what you do. (s.jobs)
________________________________________________________________________
 INDUSTRY NEWS
ALLIED MODEL TRAINS AUCTION
Wednesday, September 9th, 2015 @ 10:00am
4371 Sepulveda Blvd., Culver City, California 90230
1000's MODEL TRAINS * TRACKS * SLOT CARS
RARE COLLECTIBLES * MINIATURES * SCENE ACCENTS STORE FIXTURES * OFFICES FF&E
100's of Collectibles: Lionel Lionmaster Western Maryland Challenger; Union H16-14 & Southern Pacific GP-30; D&RGW 4-8-4 M64; UP Harriman Coffee & Sandwich Cars; C&O Mogul; Precision Scale SP 2-6-0; Defense Special 1941/43 Operations; (To Many To List);
Mfgs To Include: Lionel, Walthers, Genesis, Kato, Atlas, Thomas, LGB, Fleischmann & Marklin Model Trains, In O, HO, S & N Scales; Railroad Tracks, All Gauges; Figurines; Miniatures,  Slot Cars & Tracks; Model Paints & Accessories; Antiques; Books & Postcards; Clothing; Magazines; Signage; Gondola Racking & Shelving;  Lighted Showcases; Repair Equipment; Bench Drill Press; Tools Office Furniture, Fixtures & Equipment, Computers; Nortel Phone System; Printers; Cash Registers; To Many Assets To List!
Inspection: Morning Of Sale 8:00 am To Sale Time!
13% Buyers Premium Charged * $ 500.00 Cash Deposit Required To Bid
http://www.vanhornauctions.com/allied-model-trains.html
.
________________________________________________________________________
IN STORE  RELEASES
WHAT'S NEW … WHAT'S HOT!
We just received another shipment from Germany of the new  MinitrainS  – 0-4-4T Fiddletown and Copperopolis Hon30 Forneys and many other locs and cars.
Check out the inventory on our website – and see how extensive the line is. (right navigation under Catalog – then Hon30)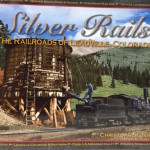 A new book on Leadville Colorado has arrived at 'The Stop'  "Silver Rails, The Railroads of Leadville, Colorado, by C James.  – 280 pages lots of photos – $59.95
____________________________________________________________________________________________
School: Los Angeles Film School. Film Crew:  Tania Sinclair, Jorge Gomez and Oscar Fernandez Baca. Award:  Second Place in the Spanish Festival: "Showing Film Awards".
_____________________________________________________________________________